2021 Thermaltake EXPO January Introducing the ARGENT series
Game with Modern Aesthetics

Taipei, Taiwan – January 12th, 2021 – Thermaltake, the leading PC component brand offering premium solutions for cooling, gaming peripherals, and enthusiast memory solutions, today announced the ARGENT series, which includes the: ARGENT K5 RGB gaming keyboard, ARGENT M5 RGB gaming mice, ARGENT MP1 RGB mouse pad, ARGENT MB1 mouse bungee and ARGENT HS1 RGB headset stand; ARGENT H5 RGB gaming headsets, ARGENT DS 100 Desk Cooler, ARGENT E700 gaming chair and ARGENT gaming desk will be disclosed later on in 2021.The ARGENT series introduces a new aesthetic way of gaming, by redefining black and gray colors, carrying aluminum elements with meticulous curvature, while adhering to gaming-grade functionalities. The ARGENT series is a fusion of interior décor and performance gaming. Win games while looking good!

"We have decided to create a gaming series that can be enjoyed at all levels, including visual, auditory and tactility, allowing users to game and compete at the highest levels. The ARGENT series is a concept that merging gaming functionalities with modern aesthetics, from hardware, software, and even the illumination, the ARGENT series is undoubtedly state-of-the-art. Combining immersive gaming and art enjoyment!" said Kenny Lin, the CEO of Thermaltake.

For the latest updates, stay posted on the Thermaltake Facebook Page (facebook.com/ThermaltakeInc) and Thermaltake Global YouTube Channel (youtube.com/channel/UCmlNM0oho3k-RxnbsRAreFw).


2021 Thermaltake EXPO January Live Stream Platforms
youtube.com/channel/UCmlNM0oho3k-RxnbsRAreFw

Features of the Argent Series:
ARGENT K5 RGB Gaming Keyboard
The ARGENT K5 RGB Gaming Keyboard is crafted with an aluminum top plate and a streamlined titanium design, combined with 360-degrees of RGB underglow that can be switched among fourteen lighting effects, creating a halo glow surrounding the keyboard. Customizing the ARGENT K5 can be done through the TT iTAKE software, including macros, game profiles, and RGB lighting effects. The ARGENT K5 is fully compatible with TT RGB PLUS products for RGB illumination, syncing with other TT RGB products.
We have incorporated Cherry MX Speed Silver and MX Blue mechanical switches, which aims to provide the most durable, precise, and responsive tactile feedback to the user. Dedicated multimedia keys offers one-touch access to common multimedia functions. Also features a car audio style rotary volume control knob that is made of aluminum, and allows for audio output volume adjustments, or press the knob to mute/unmute the audio output. It also includes a magnetic wrist rest made with synthetic leather, fulfilling both comfort and ergonomics under day-long gameplay.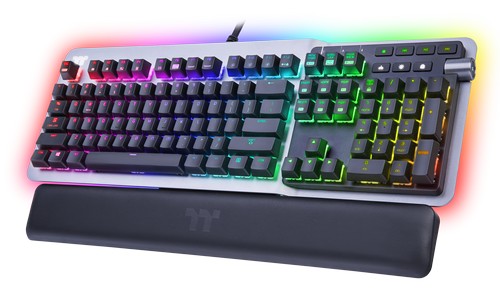 ARGENT M5 RGB Gaming Mouse
Featuring the symmetrical design where both right-handers and left-handers are able to enjoy, the RGB light show between the scroll wheel and the TT logo also brings balanced aesthetics. The fifty million click OMRON engineered switches, powerful pixart PMW-3389 optical sensor with up to 16,000 DPI, allows users to enjoy their gaming experience effortlessly.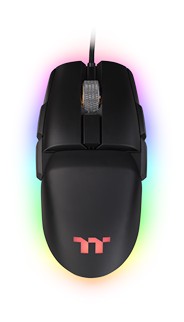 ARGENT M5 Wireless RGB Gaming Mouse
While the ARGENT M5 Wireless RGB gaming mouse does not include the same baseplate lighting as the Argent M5 RGB wired mouse, users can still see RGB effects through the scroll wheel and the TT logo. Keeping the same ambidextrous design and similar features, the Argent M5 Wireless RGB mouse incorporates a pixart PMW-3335 optical sensor as a substitute. Users can use the Argent M5 Wireless RGB mouse in three ways; connect via 2.4GHz, Bluetooth 5.0 or USB wired connection and charge the mouse while using it wired. Run up to 36 hours of battery lifetime with 2.4GHz connection and 52 hours with Bluetooth while keeping the RGB lights in the run.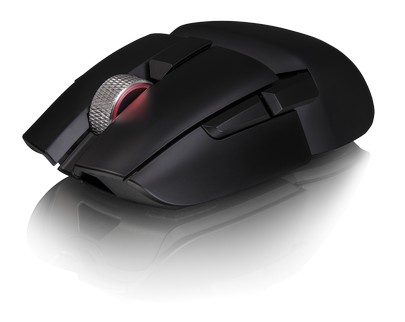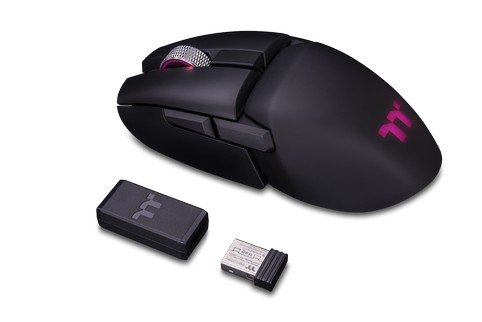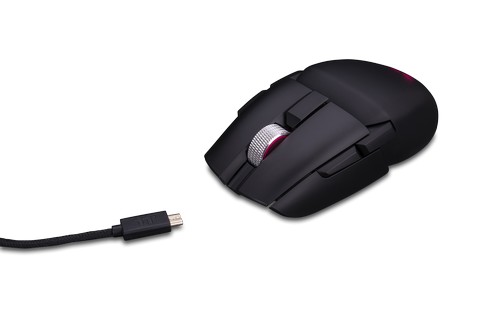 ARGENT MP1 RGB Mouse Pad
The ARGENT MP1 RGB is a hard surface mouse pad which provides responsive tracking and pinpoint accuracy, completed with an aluminum baseplate manifesting quality and sophistication. Moreover, it features 16.8M RGB colors that illuminate from the bottom to create that halo effect matching the iconic design of the ARGENT series.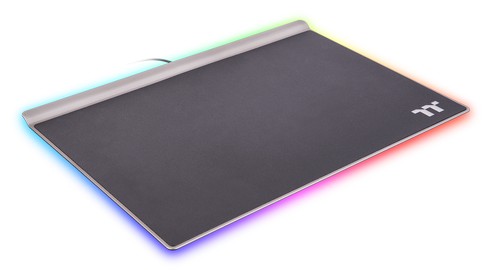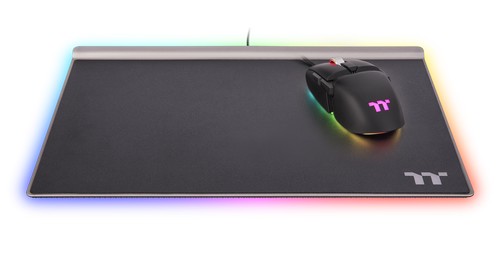 ARGENT MB1 RGB Mouse Bungee
The ARGENT MB1 RGB mouse bungee is compatible with most mouse cables and features RGB underglow that can be switched among eight lighting effect settings, again creating that halo effect matching the iconic design of the Argent series.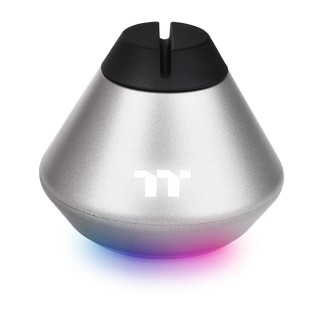 ARGENT HS1 RGB Headset Stand
The ARGENT HS1 RGB headset stand is aluminum construction based, with the sides composing of RGB lighting customizable through the iTAKE software. The headset stand also features a cable holder, two USB 3.0 hubs and one 3.5mm audio jack for hassle free plug and play action!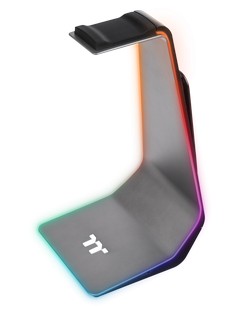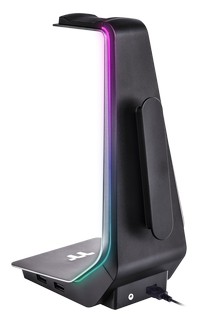 ARGENT H5 RGB Surround Gaming Headset
The Argent H5 RGB Surround gaming headset has a ring of RGB on each side of the outer ear cups and the TT logos within the rings. It features oversized 50mm Hi-Res drivers with DTS Headphone:X v2.0 virtual surround sound, maximizing the overall sound clarity for users. It also has a convenient in-line controller to adjust the balance between gaming sound and chat, DTS 7.1, microphone sound and mute options.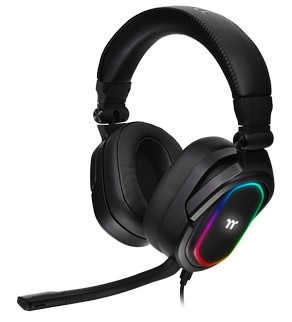 ARGENT H5 Wireless RGB Gaming Headset
As to the Argent H5 Wireless RGB gaming headset, it has an oversized 40mm Hi-Res driver with lossless 2.4GHz wireless audio and the next generation DTS Headphone:X v2.0 surround sound, providing greater sound performance and low latency while going wireless. The bi-directional microphone is detachable, the ear cups can swivel inward, and its light weight design provides excellent portability. At the back of the outer ear cups are the buttons that control sound, voice, and the lighting on TT logos. Both of the Argent H5 headsets are multiplatform ready and can be used across PC, Xbox One®, PS4™, Mac®, Mobile, or Nintendo® Switch™.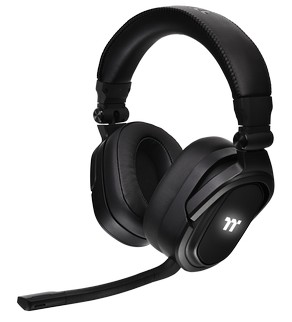 ARGENT DS 100 Desk Cooler
The ARGENT DS 100 is a desk cooler equipped with four 70mm non-LED fans with a max operating speed of 2500 RPM, which can cool down your hands during a heated match. This 500mm length, 107mm width, 82mm tall desk cooler has 6 ARGB LEDs on each side of its stands, featuring 16.8M RGB colors with eight different lighting modes, allowing users to enjoy the full set of ARGENT series products.



ARGENT E700 Gaming Chair
Thermaltake brings the user experience to the next level by introducing the ARGENT E700 gaming chair combined with versatile adjustments and true ergonomics! All functions are cleverly integrated into a unique design. High-quality materials such as genuine leather and polished metallic silver finish offer the player maximum comfort and style. This gaming chair combines the best of both worlds - the aesthetics of a spacecraft like design with the functionality.
Real leather cover, including the headrest

Integrated side handles for tilting and elevating adjustments are embedded in the chair

Wire-control mechanism with multi lockable positions

Includes large 3" caster wheels

Premium grade 5-star aluminum base for enhanced stability

Class-4 gas spring for maximum safety during height adjustments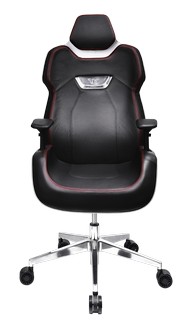 Availability, Warranty, and Pricing
The ARGENT K5 RGB gaming keyboard, ARGENT M5 RGB gaming mice, ARGENT MP1 RGB mouse pad, ARGENT MB1 RGB mouse bungee and ARGENT HS1 RGB headset stand will be available in Q1 2021. More ARGENT series such as the headsets, desk cooler, gaming chair and gaming desk will be available later in 2021. For up-to-date pricing of the ARGENT series, please refer to the Thermaltake website or contact your local Thermaltake sales or PR representative.

To learn more about Thermaltake Argent Series, please visit:
https://thermaltake.com/argentseries

ARGENT M5 RGB Gaming Mouse, product page:
https://www.thermaltake.com/argent-m5-rgb-gaming-mouse.html

ARGENT M5 Wireless RGB Gaming Mouse, product page:
https://www.thermaltake.com/argent-m5-wireless-rgb-gaming-mouse.html

ARGENT K5 RGB Gaming Keyboard (Cherry Blue), product page:
https://www.thermaltake.com/argent-k5-rgb-gaming-keyboard-cherry-mx-blue.html

ARGENT K5 RGB Gaming Keyboard (Cherry Silver), product page:
https://www.thermaltake.com/argent-k5-rgb-gaming-keyboard-cherry-mx-speed-silver.html

ARGENT MP1 RGB Mouse Pad, product page:
https://www.thermaltake.com/argent-mp1-rgb-gaming-mouse-pad.html

ARGENT MB1 RGB Mouse Bungee, product page:
https://www.thermaltake.com/argent-mb1-rgb-mouse-bungee.html

ARGENT HS1 RGB Headset Stand, product page:
https://www.thermaltake.com/argent-hs1-rgb-headset-stand.html