S100 Tempered Glass Micro Chassis
The S100 Tempered Glass Edition Micro Chassis combines a sleek design, inside a small form factor case. It's simplicity and style is built using a modern steel construction, based on the core design principles of our popular S Series of cases. The S100 TG is designed to be even more compact and is manufactured with one tempered glass hinged panel on the left, allowing for a stunning view and easy access. It comes with one preinstalled 120mm standard exhaust fan at the rear, able to provide excellent ventilation. The flexibility is limitless for high-end components despite its size, and it's the perfect choice for users looking for a stylish case that won't break the budget.
The image is for reference only.
Slim & Compact Design
Utilising a robust steel construction with a sleek front panel design, the S100 TG demonstrates a slim and compact design that fits any environment it may find itself in.
The image is for reference only.
Power Supply Cover
The built-in ventilated PSU cover design helps to provide an easy way to hide all those unsightly cables, as well as assist in overall airflow by removing unnecessary obstructions.
The image is for reference only.
Tempered Glass Hinged Panel
The 4mm tempered glass window on the side of the S100 TG is built to be more durable, scratch resistant, and transparent to allow for a clear and unobstructed view of your hardware. It also possesses a hinge door mechanism, allowing for easy access to those internal components, allowing for quick adjustments or switching of storage drives.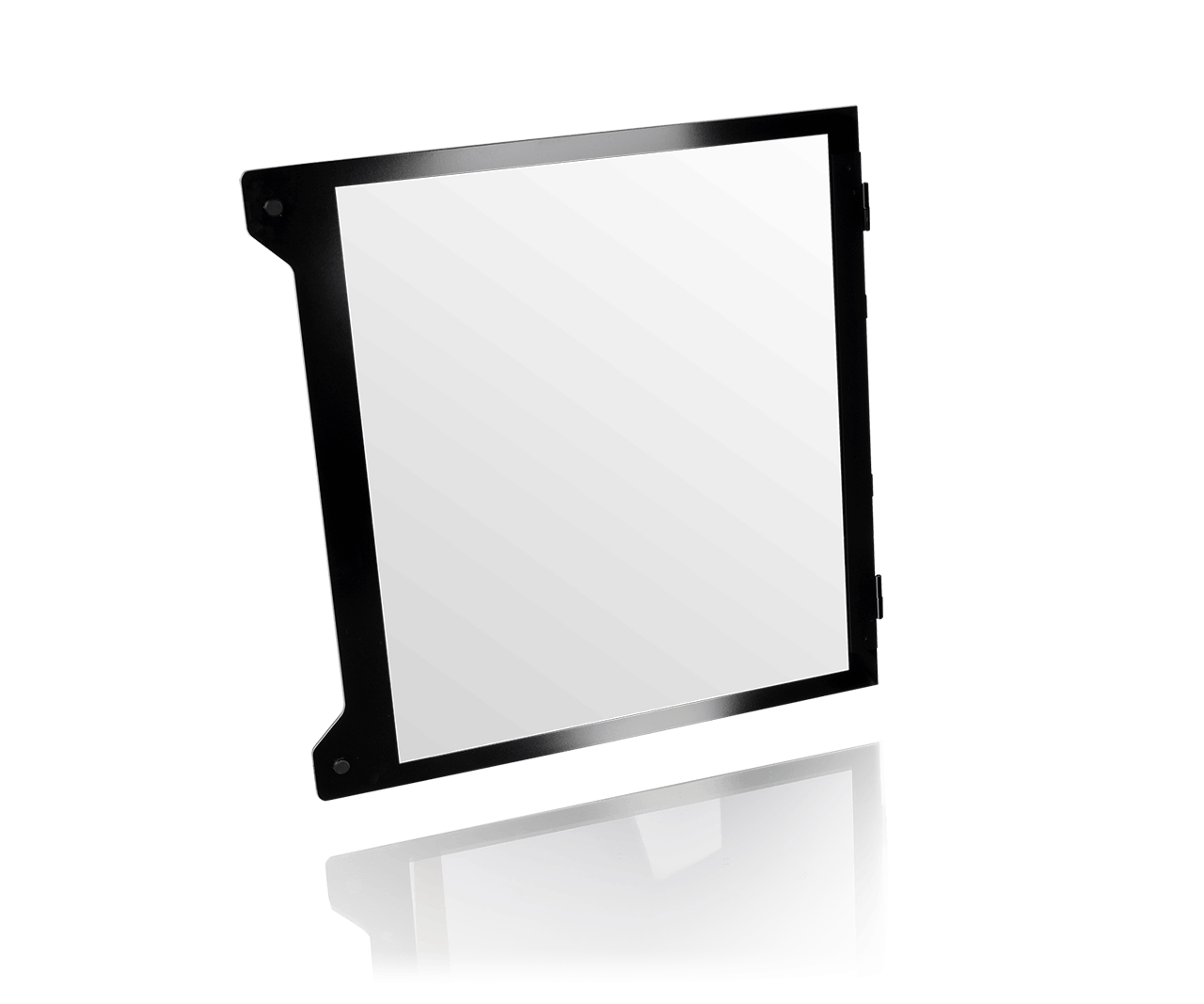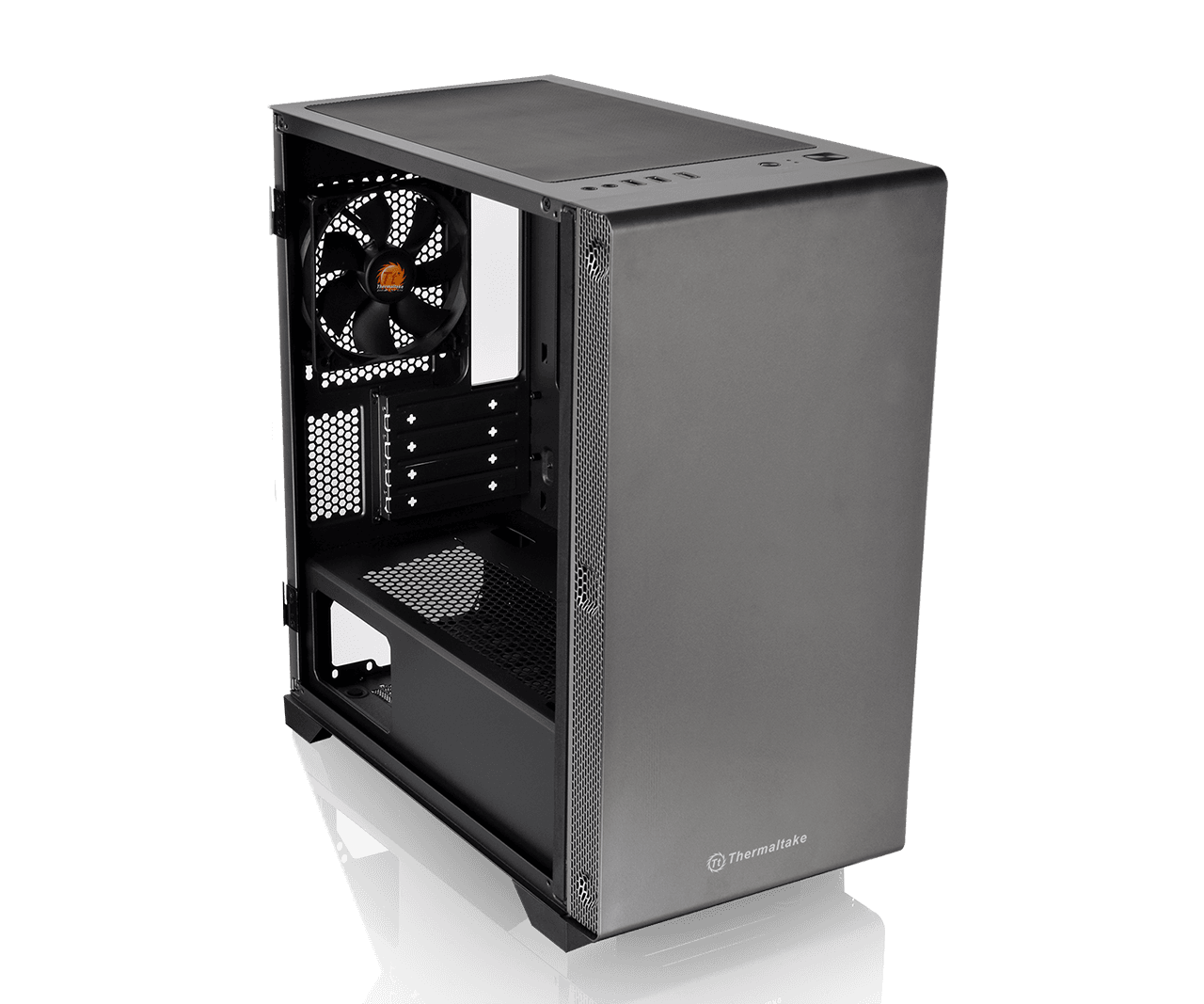 Dust Reduction & Filtration
A handy magnetic fan filter is positioned on top of the case, allowing for perfect dust filtration, particulate protection, as well as being easy to clean. At the base of the chassis, additional fan filters provide additional protection against both dirt and dust.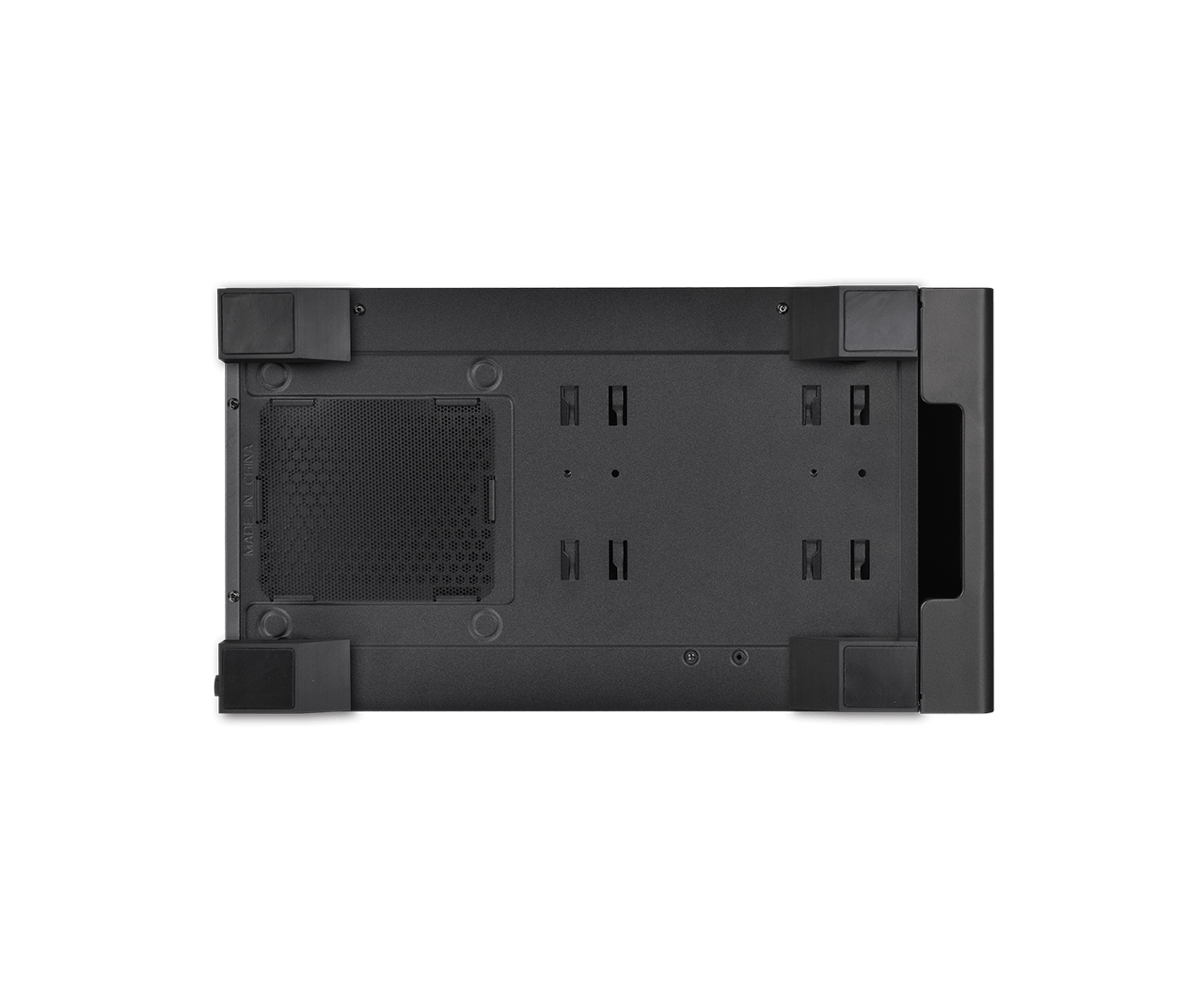 Hardware Expansion
The S100 TG provides excellent hardware expandability. It can support a CPU cooler up to a maximum height of 165mm, GPUs up to 330mm long, and a full length power supply of up to 160mm. The case comes with a preinstalled 120mm rear exhaust fan, optimized for excellent cooling capabilities. The chassis can house up to two 140mm or two 120mm fans at the front, and a radiator of up to 280mm at the front or on top to allow users to build their desired setup.
Easily Accessible I/O Ports
Coming with one USB 3.0, and two USB 2.0 ports on the top-front panel, plugging in and accessing external storage is a breeze. And with additional microphone and audio ports, setting up recording/audio devices simply becomes plug and play.
Radiator Support List
Radiator Compatibility List
| | 120mm | 240mm | 360mm | 140mm | 280mm | 420mm |
| --- | --- | --- | --- | --- | --- | --- |
| Front | ● | ● | - | ● | ● | - |
| Top | ● | ● | - | ● | ● | - |
| Rear | ● | - | - | - | - | - |
All-in-One Compatibility List

| | Perform | Pro | 240 Series | 360 Series | 140 Series | 280 Series |
| --- | --- | --- | --- | --- | --- | --- |
| Front | ● | ● | ● | - | ● | ● |
| Top | ● | ● | ● | - | ● | ● |
| Rear | - | - | - | - | - | - |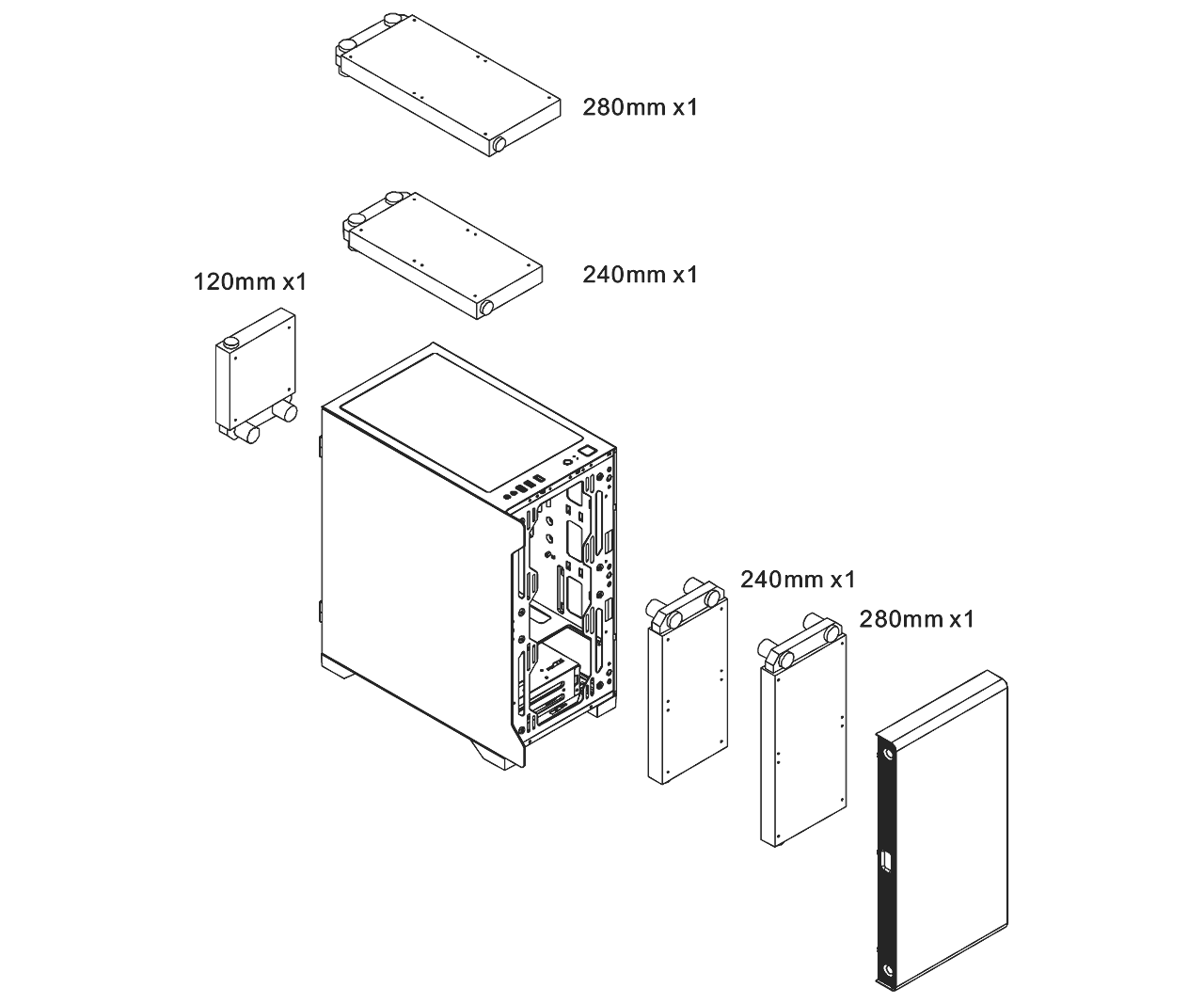 Fan Support List
Fan Compatibility List
| | 120mm | 140mm | 200mm |
| --- | --- | --- | --- |
| Front | 2 | 2 | - |
| Top | 2 | 2 | 1 |
| Rear | 1 | 1 | - |
Thermaltake Compatible Fan
| | 120mm | 140mm | 200mm |
| --- | --- | --- | --- |
| PURE FAN Series | ● | ● | ● |
| Riing FAN Series | ● | ● | ● |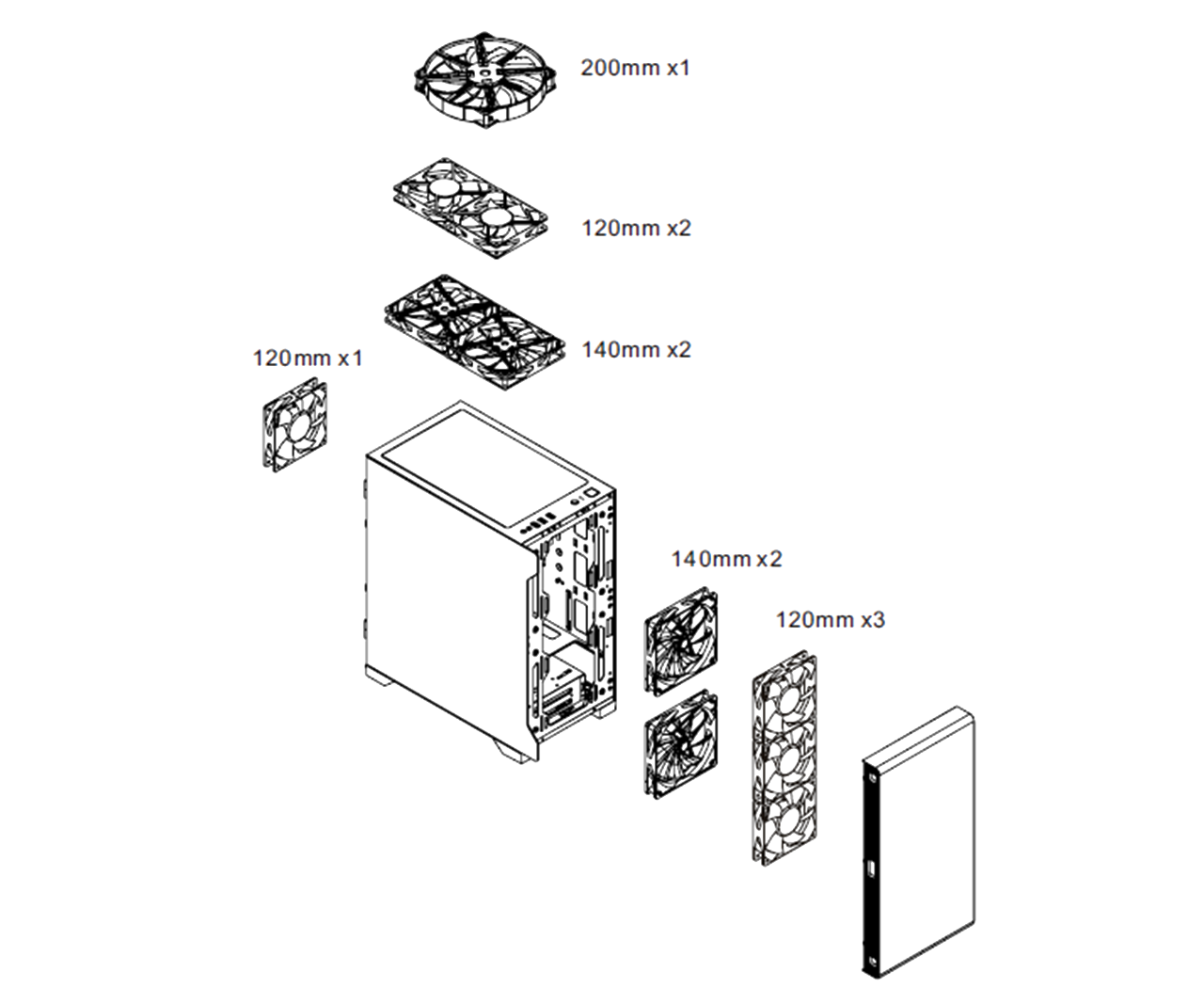 More Information
P/N
CA-1Q9-00S1WN-00
Series
S Series
Model
S100 TG
Case Type
Micro Case
Dimension (H x W x D)
441 x 220 x 411 mm
(17.36 x 8.66 x 16.18 inch)
Net Weight
6.1 kg / 13.45 lbs.
Panel
Tempered Glass x 1
Color
Exterior & Interior : Black
Material
SPCC
Cooling System
Rear (exhaust) :
120 x 120 x 25 mm fan
(1000rpm, 16 dBA)

Drive Bays
-Accessible
-Hidden

-
2 x 2.5" (HDD Bracket); 2 x 3.5" or 2 x 2.5" (HDD Rack);
Expansion Slots
4
Motherboards
6.7" x 6.7" (Mini ITX), 9.6" x 9.6" (Micro ATX),
I/O Port
1 x USB 3.0, 2 x USB 2.0, 1 x HD Audio,
PSU
Standard PS2 PSU (optional)
Fan Support
Front:
3 x 120mm, 2 x 140mm
Top:
2 x 120mm, 2 x 140mm, 1 x 200mm
Rear:
1 x 120mm,
Radiator Support
Front:
1x 240mm, 1 x 280mm
Top:
1 x 240mm, 1x 280mm
Rear:
1 x 120mm,
Clearance
CPU cooler height limitation: 165mm
PSU length limitation: 160mm
VGA length limitation: 330mm
User Manual
File Name
Description
Size
Version
Release Date