TOUGHRAM Memory DDR4 4400MHz 16GB (8GB x 2)
Built with the highest quality of components to the highest of standards, the TOUGHRAM delivers outstanding gaming performance with its stunning aesthetical design. Its pure aluminum heat-sinks not only enhances heat dissipation, but also offers durable construction. In addition, the brushed aluminum heat sinks and the 98g/0.22lb modules provide a more sturdy touch for the user, revealing true elegance from inside out.
AESTHETIC
Designed with the TT logo, crafted with style. TOUGHRAM's chrome strips reflect our pride TT Premium, which values high-end product quality for PC DIY solutions. The texture of the aluminum reveals pure tidiness and the brush finished strokes running down the entire module creates a nice flowing design.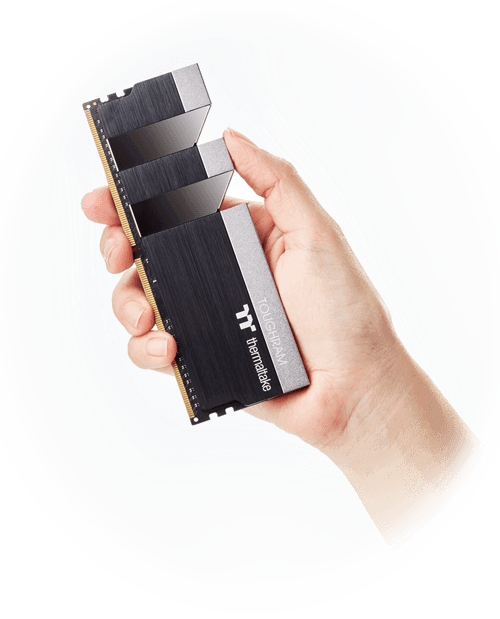 Exquisite Design with a Fine Touch

TOUGHRAM's exquisite heat sink is not only stylish, but the overall construction is durable and is finished with a high-quality alloy. TOUGHRAM delivers a fine touch to your hand, and it's absolutely pleasing to the eye.
TOUGHNESS
Extra Sturdy. Absolute Toughness.
Each RAM module weights up to 98g/0.22lb and a width spanning 1.8mm, this helps deliver outstanding heat dissipation. TOUGHRAM brings out absolute toughness from inside out.



RAM Module Weight
98

g/ 0.22lb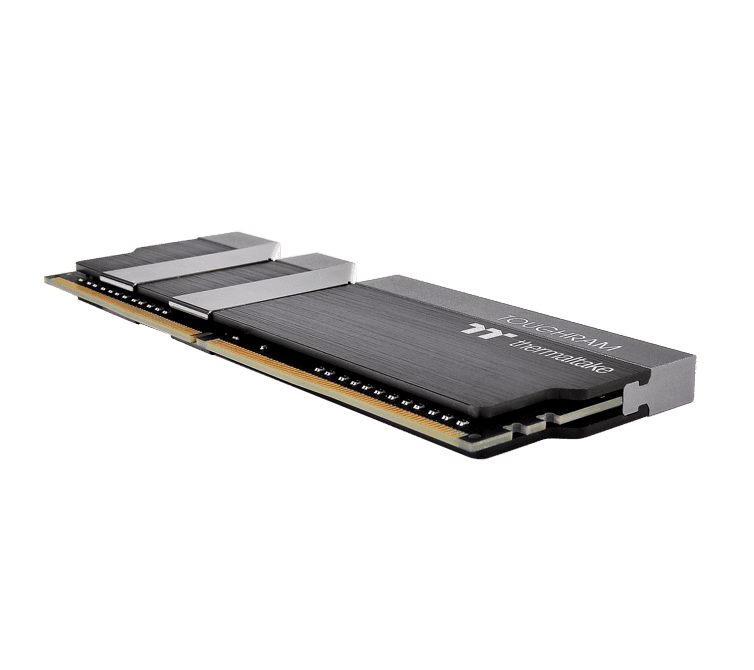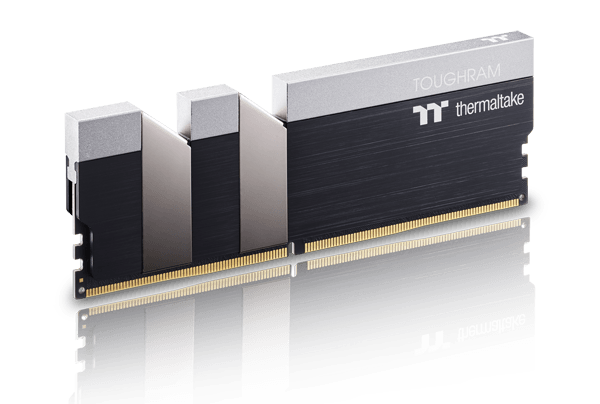 Superior Anodized Aluminum

The black TOUGHRAM is built with a superior anodized aluminum for its sleek appeal. The brushed finish prevents its surface from unwanted smudges.
ARCHITECTURE
Tightly-Screened ICs
Memory chips are thoroughly-screened to provide optimal frequency and response time performance.
Optimized 10-Layer PCB with 2oz Copper PCB
Specially optimized 10-layer PCB with 2oz copper inner layer provides enhanced electricity conduction to deliver uncompromised speed and reliability for maximum overclocking performance.
High Quality Gold Fingers
Use of 10μ gold fingers for enhanced durability and high wear resistance.
Exclusive TOUGHRAM Software

Monitor real-time temperature, frequency and performance via the simple interface with ease.
Sync with Motherboard RGB Software
Designed to synchronize with ASUS Aura Sync, GIGABYTE RGB Fusion, MSI Mystic Light Sync, and ASRock Polychrome. It supports motherboards with a 5V addressable RGB header, allowing you to control the lights directly from the software mentioned above without installing any extra lighting software or controllers. For more details, please visit ASUS, GIGABYTE, MSI, and ASRock official websites.
Category
Caution
Chassis, ARGB Fan, ARGB AIO

The motherboard signal connector only supports a 5V header.
Make sure your motherboard software is the latest version.

RGB Memory, VGA Waterblock, Distro Plate

This product can only be used with either the TT RGB PLUS software or the dedicated Motherboard software. By having more than two applications open may cause conflicts
The motherboard signal connector only supports a 5V header.
Make sure your motherboard software is the latest version.
Intel XMP 2.0 Ready
Overlock with ease and optimize system stability with a simple setting.

We've Got Your Back!

Thermaltake memory kit offers limited lifetime warranty for the RAM.

*Terms and conditions apply, please click on "learn more" for details.

All images/videos are for reference only. Please refer to the product for precise appearance.
Our product has been tested on selected Intel and AMD motherboards, please note that compatibility and performance may differ due to component variations in your hardware.
Conditions for RGB synchronization with third party motherboards and software may vary.
More Information
P/N
R017D408GX2-4400C19A
Memory Type
DDR4
Capacity
16GB Kit (8G x2)
Tested Latency
19
Voltage (V)
1.45 V

Speed
4400 MHz
Compatibility
Intel 500, 400, 300, X299 Series
AMD X570, B550
Module Type
DIMM
Performance Profile
XMP 2.0 Ready
Package Content
2 x 8GB memory module
Color
Black
Warranty
Limited Lifetime Warranty
User Manual
File Name
Description
Size
Version
Release Date
Drivers & Software
File Name
Description
Size
Version
Release Date